New Fire Separating Wall System to Safeguard Future Developments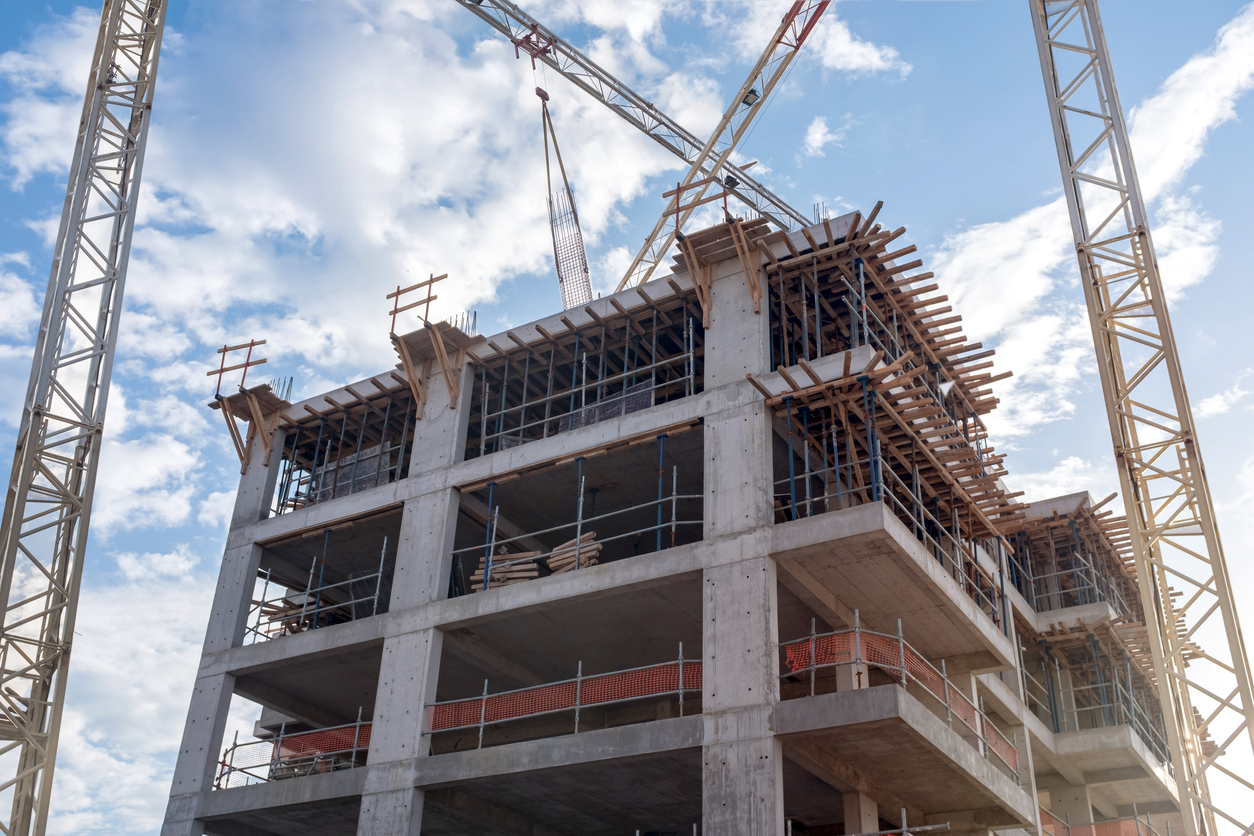 Developed to meet market requirements around fire compliance, ResCom Internal Fire Separating Wall System has been designed to suit high rise construction by addressing the thermal, acoustic and fire resistance requirements of multi storey buildings.
Replaces Shaft Liner Plaster Systems
Driven by both ever-increasing cost pressures and the demand for buildings with improved environmental performance, ResCom Fire Wall Board is part of the next wave of building solutions.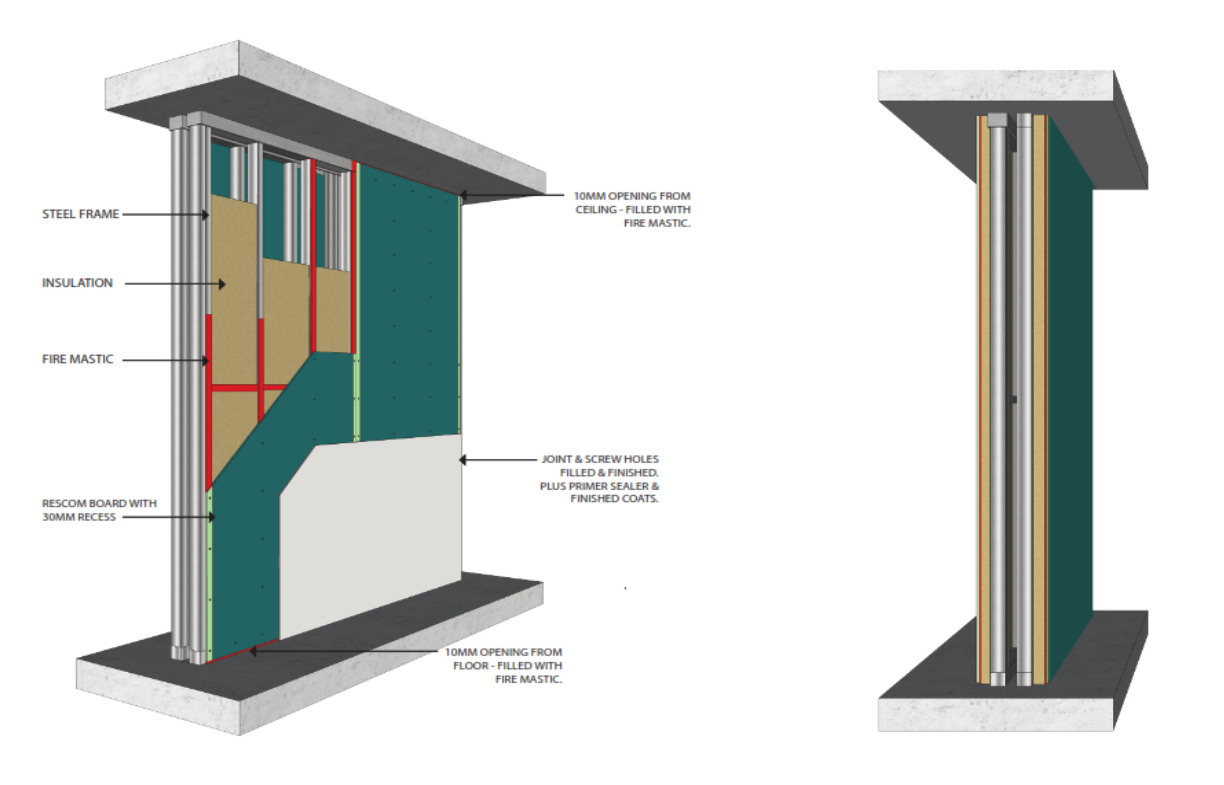 The New Generation of Fire Rated Separating Wall Board
ResCom Fire Wall Board is the new generation of high-performance construction material that meets the modern challenges of fire resistance in construction.
It's an environmentally friendly composite cold formed ceramic magnesium oxide (MgO) internal fire rated lining board.
Fire Wall Boards strength and fire resistance is due to the very strong bonds between the Magnesium (Mg) and Oxygen (O) atoms that form Magnesium Oxide Chemical Symbol MgO.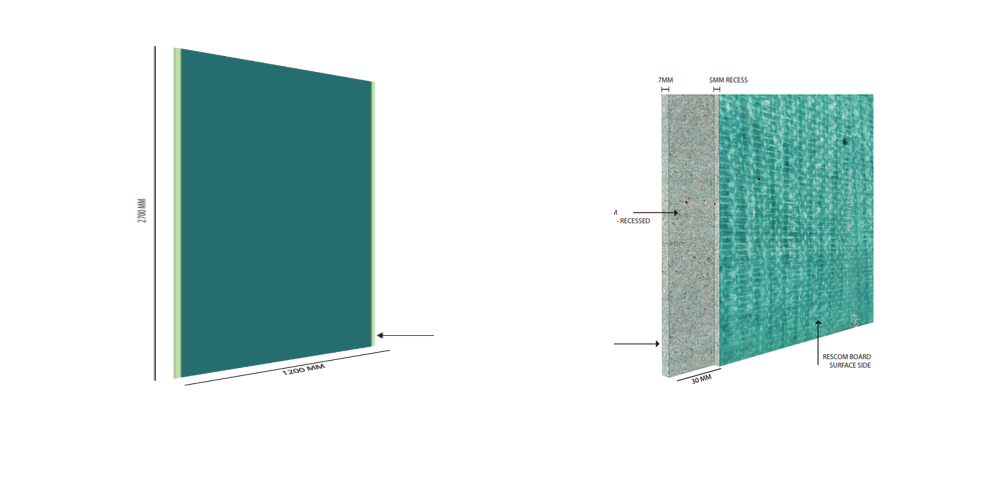 Faster & More Efficient Intertenancy Wall Construction
The ResCom Fire Wall Building System has been designed and perfected to be specified for intertenancy wall (party wall) construction.
Fire Wall Board which is the integral part of the Fire Wall Building System is a code marked certified fire rated product designed to be faster and more efficient
Installation of Fire Wall System
The installation of the ResCom Fire Rated and Acoustic Separation Wall System between attached occupancy units is made easy by our nine-step installation process.
The ResCom Fire Wall Building System replaces existing shaft liner plaster systems.
Construction of intertenancy walls is now easier and more efficient.
In essence we are removing the Shaft Liner Plaster System and replacing it with a 50mm cavity, replacing the internal plaster board wall with ResCom Fire Wall Board.

Firstly Metal Framing must be installed as per the requirements of BCA Volume 2.
A cavity of 50mm is required between both frames of the party wall.
Mineral Wool 27 kg/m3 Thermal & Acoustic Insulation Bats is then installed in both frames.
Apply a 5mm bead of Boss Fire Mastic 300 Fire Rated Sealant along the frame.
Then place Fire Wall Board to Frame leaving a 10mm gap between the floor and the bottom of the board and the ceiling and the top of the board.
Fix the Fire Wall Board to frame with Non-Corrosive Class 5, 8 Gauge, 32mm self-drilling countersunk screws.
Set Quick Drive System to ensure screws finish 0.5mm below the surface of the board.
Fix 15mm from the edge of the board and at 300mm centres.
Apply Fire Mastic 300 beading to 10mm gaps between the board and ceiling and floor.
All screw holes and joints finished with Knauf (or similar) Plaster Joining Compound. The recessed edges on the Fire Wall Boards allow for taping and clean joints.
Finish the wall with one coat of primer/sealer and then under coat and paint as per Dulux (or other) as per manufactures specifications.
The Urban Developer is proud to partner with ResCom Firewall to deliver this article to you. In doing so, we can continue to publish our free daily news, information, insights and opinion to you, our valued readers.
Article originally posted at: https://www.theurbandeveloper.com/articles/new-building-system-product-release