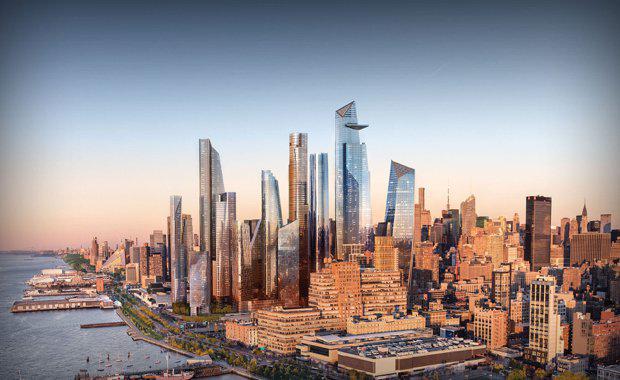 Hudson Yards: The Largest Development In U.S History
---
Since breaking ground more than four years ago, progress has steadily continued on the largest private real estate development in U.S history.
Husdon Yards is considered the largest development in New York City since Rockefeller Centre and the buildings that make up the project have been steadily rising since breaking ground, with some elements already complete and open for business.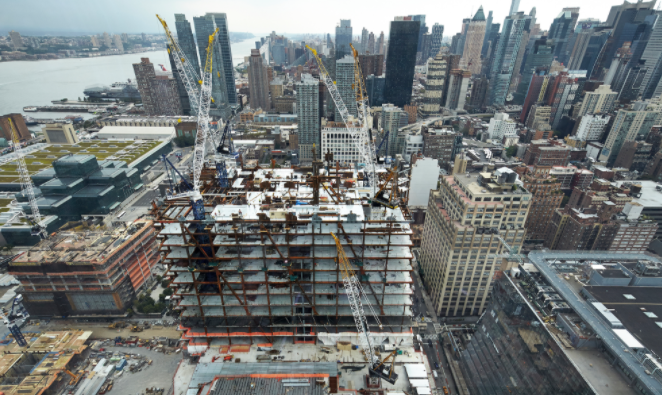 However, Hudson Yards is destined to be much more than just a collection of buildings added to the New York skyline. According to the developers of Hudson Yards, it will have a substantial impact on the New York City economy. Once fully operational, the development will contribute nearly $19 billion annually to New York City's GDP, accounting for 2.5 percent of the citywide GDP. It will also contribute nearly $500 million annually in city taxes. Companies and buildings at Hudson Yards are expected to bring 55,752 direct jobs to the new West Side neighbourhood.
What is Hudson Yards?
When complete, Hudson Yards will include more than 18 million square feet of commercial and residential space, more than 100 shops, a collection of restaurants, approximately 4,000 residences, a new centre for artistic invention, 14 acres of public open space, a 750-seat public school and an Equinox® branded luxury hotel with more than 200 rooms. More than 23,000 construction jobs have been projected to complete all of the projects that make up Hudson Yards as a single entity.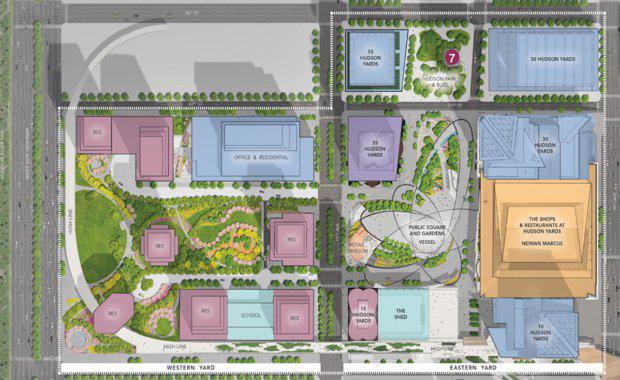 10 Hudson Yards
Height: 895 ft
Use: Commercial, office and retail
Construction: 2012 - 2016
The building opened in May 2016.
The tower has succeeded in attracting world-class fashion, technology, consulting and beauty brands, and is home to Coach, Inc., L'Oréal USA, SAP, The Boston Consulting Group, VaynerMedia, Intersection and Sidewalk Labs. Unique among Class A New York City office buildings, 10 Hudson Yards has a direct connection to the celebrated High Line. The tower bridges over the elevated park to create a dramatic 60-foot public passageway that extends through the building. It will also offer a direct connection to the Public Square and Gardens.
15 Hudson Yards
Height: 910 ft
Use: Residential
Construction: 2014 - 2018
15 Hudson Yards will offer 285 one- to four-bedroom for-sale homes. The building's unique location will provide residents with one of a kind views overlooking the Hudson River, the city skyline, and above the highly anticipated new Public Square and Gardens at Hudson Yards, which will feature a landmark centrepiece by Thomas Heatherwick. Each residence is equipped with state-of-the-art conveniences that enhance residents' quality of life, from ducted fresh air with four points of filtration per apartment to Lutron home automation to a grey water recycling system that uses storm water runoff to support cooling and irrigation. Residents will also have access to a number of in-building-only amenities, including a fitness center, 24/7 concierge-attended lobby, on-site parking garage along with valet, and pet-friendly services.
30 Hudson Yards
Height: 1,296 ft
Use: Commercial and office
Construction: 2014 - 2019
Time Warner Inc., a global leader in media and entertainment with businesses in television networks, film and TV entertainment and publishing, has already acquired approximately 1.5 million square feet of office space at 30 Hudson Yards and plans to move approximately 5,000 employees from its corporate operations as well as its HBO, CNN, Turner Broadcasting and Warner Bros. entities—consolidating the divisions under one roof for the first time.
KKR, a renowned global investment firm that manages investments across multiple asset classes, has acquired approximately 343,000 square feet, the top ten office floors, at 30 Hudson Yards while Wells Fargo Securities, one of the world's largest financial services firms, has acquired over 500,000 square feet in the building. Both firms are relocating their corporate offices to the flagship office tower. DNB, Norway's largest financial institution, is also moving its North American headquarters to 30 Hudson Yards and taking over 44,000 square feet of space. Related Companies and Oxford Properties Group will also have office space at 30 Hudson Yards.
35 Hudson Yards
Height: 1,000 ft
Use: Hotel, residential, retail and office
Construction: 2014 - 2019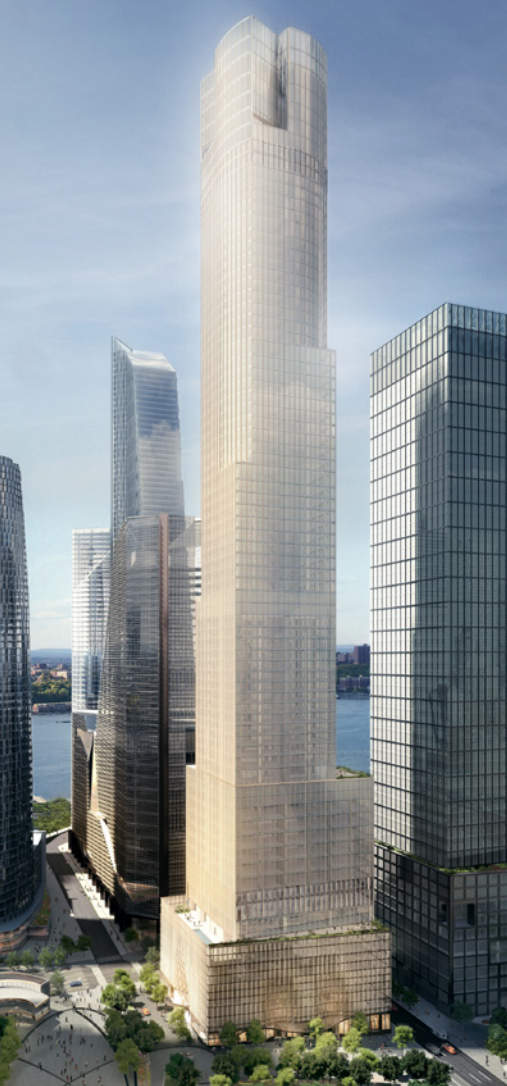 Standing 1,000 feet tall, 35 Hudson Yards will be the tallest residential building at Hudson Yards, offering never-before-seen views from Manhattan's West Side. Residents living at 35 Hudson Yards will benefit from hotel-style amenities with superior services and on-site concierge staff. Residents will also be surrounded by parks with direct access to the High Line and Hudson Park & Boulevard; exciting shopping, dining, nightlife and cultural events in Hudson Yards; and the variety of entertainment options in the surrounding Chelsea and Midtown neighbourhoods.
50 Hudson Yards
Height: 985 ft
Use: Commercial and office
Construction: 2017 - 2022

Designed by Foster + Partners, the 2.9-million-gross-square-foot building will stand 985 feet tall, provide direct access to the No. 7 Subway and have entrances on Hudson Park & Boulevard and 10th Avenue, as well as both 33rd and 34th Streets. The tower will offer column-free floors throughout the building, larger floorplates at the base, private sky lobbies, staggering views of the Hudson River and executive valet parking in a private porte-cochère.
The white stone and glass-clad façade are designed to accentuate the verticality of the building, while the interior is designed to house large trading and amenity spaces. The world's leading investment management firm, BlackRock, will locate its corporate headquarters at 50 Hudson Yards, occupying 850,000 square feet across 15 floors.
55 Hudson Yards
Height: 780 ft
Use: Commercial and office
Construction: 2015 - 2018

The building is under construction and will be delivered to tenants in 2017 with move-in's in mid-2018. 55 Hudson Yards is the southwestern anchor of the new Hudson Park and is one of the only office buildings in the entire city to have a lobby that opens directly onto a park. The architects further enhanced the appeal of this great outdoor space by designing a dramatic outdoor terrace overlooking the park on the building's tenth floor. The building's design also provides future tenants the opportunity to carve private, double-height terraces into the tower in flexible locations.
The unique façade of 55 Hudson Yards is inspired by the revitalised High Line district, the manufactured cast iron façades of the Soho buildings and the best of early modernism. The matte metal and stepped articulation of the window frames present a strong and solid exterior appearance, which is modern but uniquely New York in character. While the building references the solid exterior of the city's classic cast iron buildings, it also shares their expansive floor to ceiling windows to maximise interior light.
More than just towers at Hudson Yards
Shops & restaurants
The Shops & Restaurants at Hudson Yards, situated between 10 and 30 Hudson Yards, will be one of New York City's premier locations for fashion and dining, setting a new benchmark for shopping in a dynamic, mixed-used setting.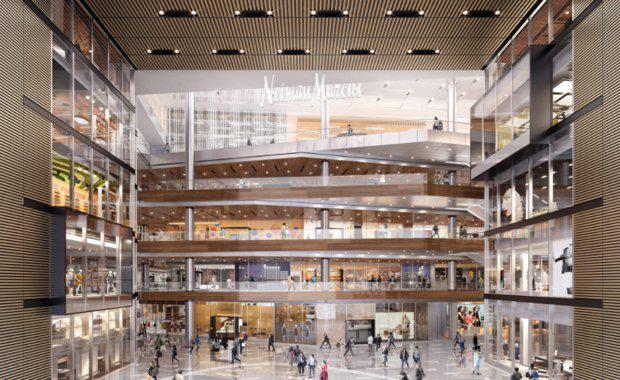 The 1,000,000-square-foot retail center will present to visitors and residents a carefully curated collection of top brands through its 100-plus shops including New York City's first Neiman Marcus, two-story mini anchor presentations by Zara and H&M, and a multitude of diverse fashion brands including AG Jeans by Adriano Goldschmied, Aritzia, Athleta, Banana Republic, Coach, Stuart Weitzman and Tory Burch; a beauty collection comprising The Body Shop, Kiehl's, Jo Malone, MAC, NYX, Origins, Sephora and Urban Decay; and an extraordinary collection of global luxury watch brands, including Rolex, which will encompass a 6,000-square-foot Watches of Switzerland showroom.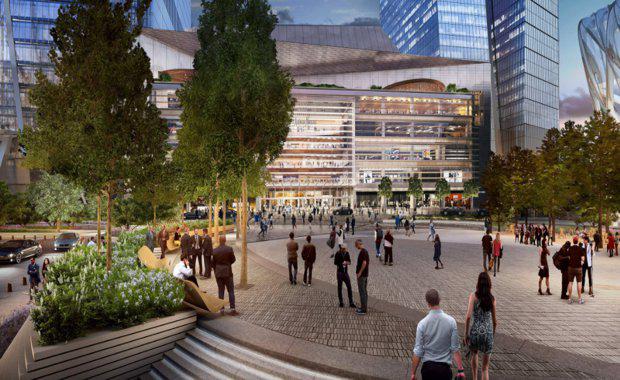 The Restaurants, curated by Chef Thomas Keller and restaurateur and developer Kenneth Himmel, will bring together a collection of indoor and outdoor dining experiences, lively bars and lounges, and New York's most celebrated cuisine. Designed by Elkus Manfredi Architects as a captivating interior space, as well as a vantage point for viewing the Public Square and Gardens and Vessel, this multi-level retail centre will become a quintessential New York experience. The Shops will also offer convenient access to the High Line and the No. 7 Subway station.
Public square & gardens
Hudson Yards will include five acres of gardens and public plazas on its Eastern Yard. Designed by Nelson Byrd Woltz Landscape Architects with Heatherwick Studio, the Public Square and Gardens at Hudson Yards is designed to become a new gathering place for Manhattan's West Side. An immersive and varied horticultural experience, it will feature more than 28,000 plants of varying color, scale and texture. The landscape will also include more than 200 mature trees, woodland plants, perennial gardens and a 200-foot-long fountain that will mirror the flow of a river.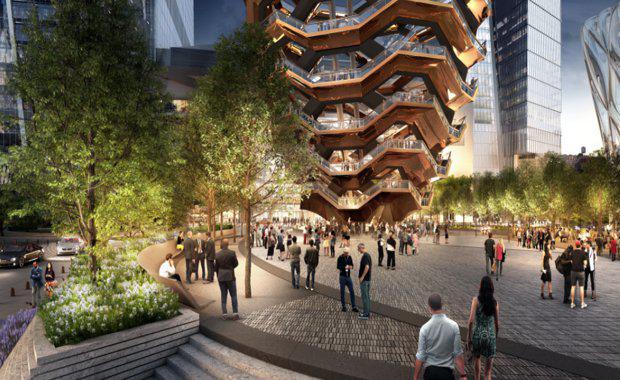 Visitors entering from the north will be greeted by a seasonally expressive Entry Garden, while the southern edge will feature a Pavilion Grove filled with a dense canopy of native trees, creating the perfect place for lunchtime gatherings or evening meals. At 10th Avenue and 30th Street, visitors will find a stone fountain, a birch grove and a new entrance to the High Line. The large trees, expansive native perennial gardens and patches of wildflowers will be home to migratory birds and pollinators, and New Yorkers will find pedestrian paths lined with nearly a mile of garden seating walls designed for sitting, relaxing and respite.
At the centre of the square will sit Vessel, a new kind of public landmark: social, engaging and interactive, meant to be entered and explored. Designed by Thomas Heatherwick and Heatherwick Studio, Vessel is comprised of 154 intricately interconnecting flights of stairs—almost 2,500 individual steps—and 80 landings.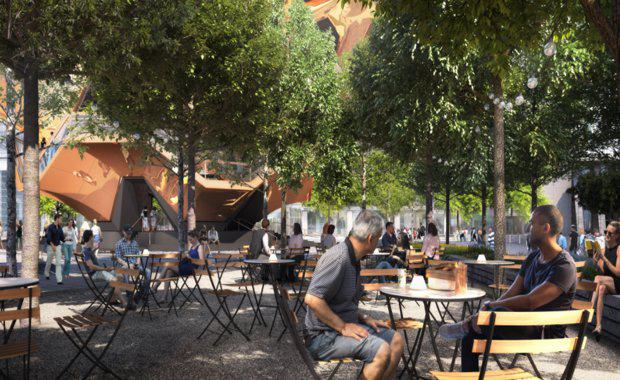 It was designed to lift the public up offering a multitude of ways to engage with and experience New York, Hudson Yards and each other. In totality, Vessel will offer a mile's worth of vertical pathway rising above the Gardens. The dramatic design of Vessel creates a kind of stage set for New Yorkers and visitors from around the world: geometric lattice of intersecting flights of stairs, whose form rises from a base that is 50 feet that widens to the top to 150 feet. It is constructed of a structural painted steel frame, its underside surfaces covered by polished copper-coloured steel skin.
Beyond hardscape and planting design, the landscape platform itself is a technical innovation. Serving as a ventilating cover over the working rail yards, the platform is engineered to support the expansive large-scale plantings and serve as a reservoir for site storm-water management and reuse.
Making Hudson Yards possible
To complete the 28-acre Hudson Yards development, two "platforms" must be constructed to bridge over 30 active Long Island Rail Road (LIRR) train tracks, three subsurface rail tunnels utilised by Amtrak and New Jersey Transit, and a fourth passageway, the Gateway tunnel, completed in late 2014. The finished buildings' foundations extend through the platform and rise above. The platforms will cover approximately three-quarters of the Eastern and Western Yards.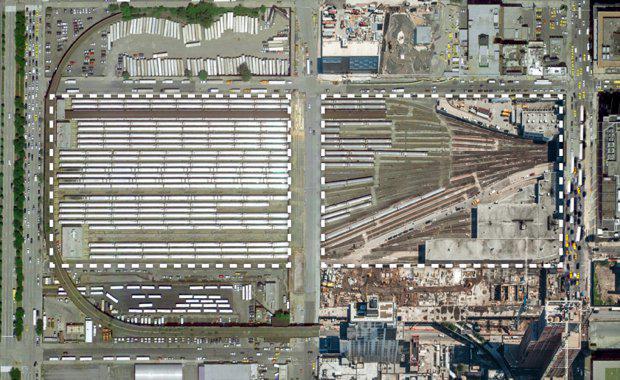 The platform and buildings above the Eastern Yard are supported by a total of 300 caissons, ranging from four to five feet in diameter and 20 to 80 feet in depth, which will be drilled deep into the bedrock in strategic locations between existing railroad tracks. The platform on the Eastern Yard utilises 25,000 tons of steel, 14,000 cubic yards of concrete and weighs more than 35,000 tons. Preliminary preparations on the Eastern Yard platform began at the end of 2013 and caisson drilling started in March 2014. Over seven million square feet of construction on Manhattan's West Side are underway at Hudson Yards.
Erection of the structural steel columns, beams and trusses began in Fall 2014. The Eastern Yard platform was completed in 2016. Throughout all of the project's construction, the LIRR, Amtrak and New Jersey Transit trains will remain operational.
Article originally posted at: https://www.theurbandeveloper.com/articles/hudson-yards-largest-development-u-s-history