Development
Tue 29 May 18
Brookfield, Investa Submit Proposal for $54m Revamp of Sydney Tower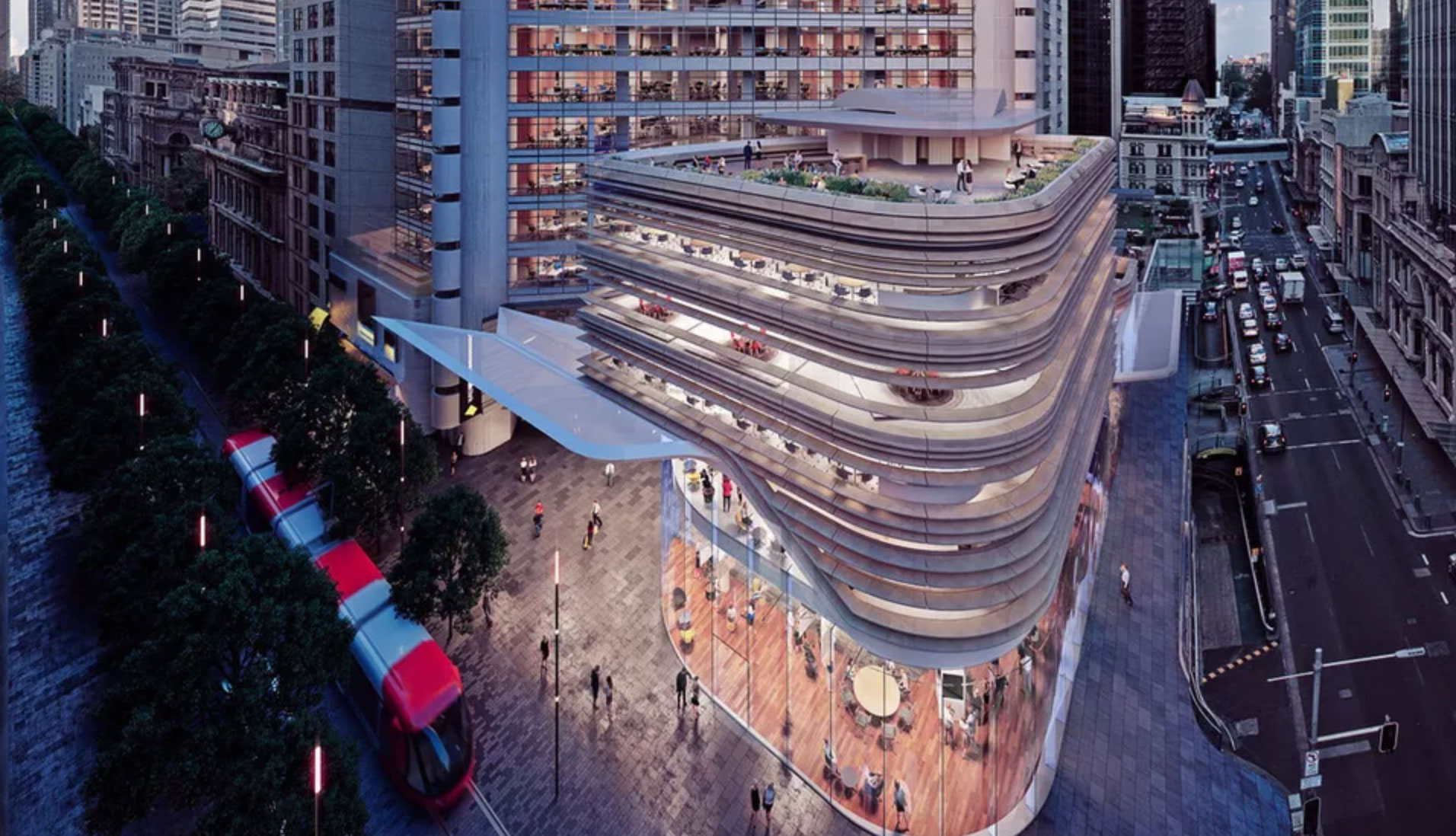 Plans for a $54 million five-storey retail and commercial addition to a landmark Sydney CBD tower has been lodged with the City of Sydney.
The building, at 388 George Street, is owned in half-stakes by global asset manager Brookfield Properties and the Investa Office Trust.
The existing building – formerly known as King George Tower – was designed by Australian architect John Andrews in 1976, and stands distinctly at a 45-degree angle on the street corner.
Investa and Brookfield's application proposes the podium "reclaim" the underutilised forecourt, completing the footprint of the 3353sq m CBD block.
Related reading: Blackstone's $3bn Takeover Bid for Investa Property Trust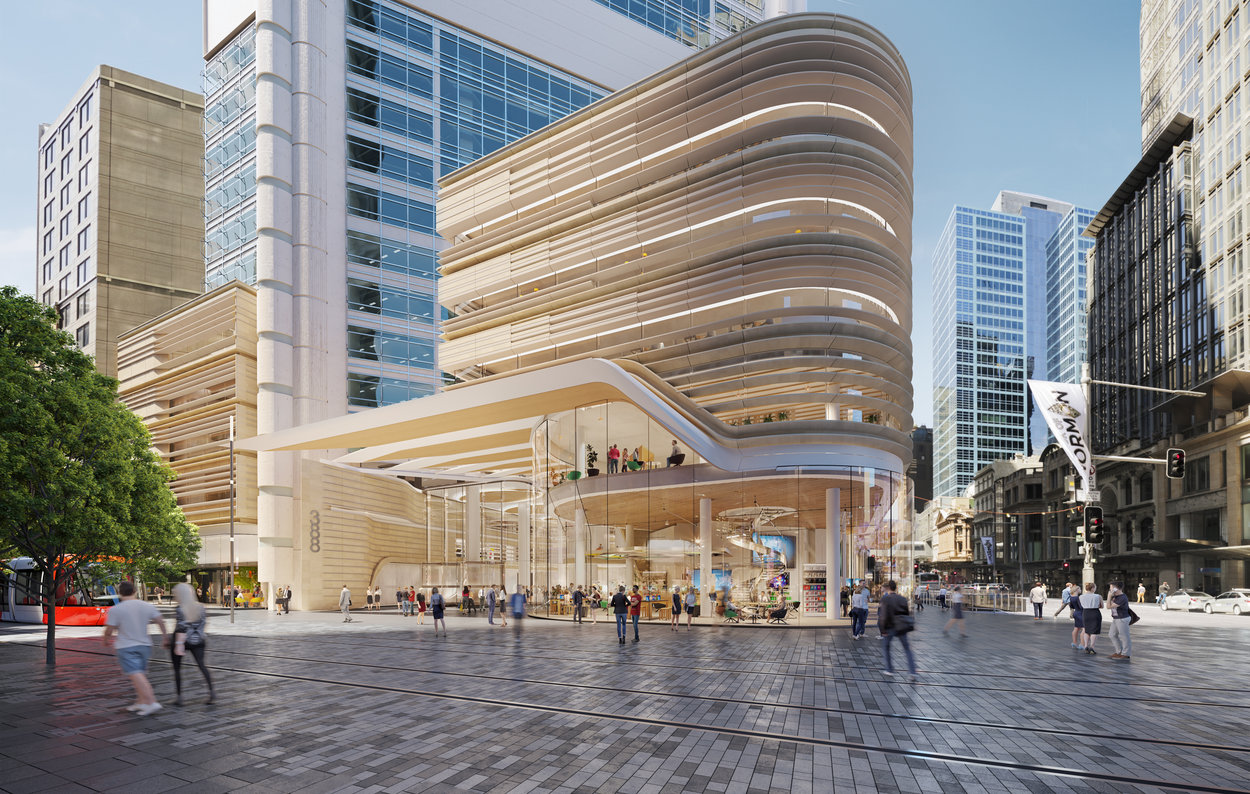 The podium will comprise a new lobby, three levels of office space at a combined 1134sq m, three levels of retail space at a combined 1310sq m and a rooftop terrace with restaurants and entertainment.
Designed by Sydney-based firm Francis-Jones Morehen Thorp (FJMT), 388 George Street will feature a curved glass and sandstone facade to complement the heritage and sandstone buildings scattered across Sydney, while modernising the base of the existing office tower.
Related reading: Blackstone's $3bn Takeover Bid for Investa Property Trust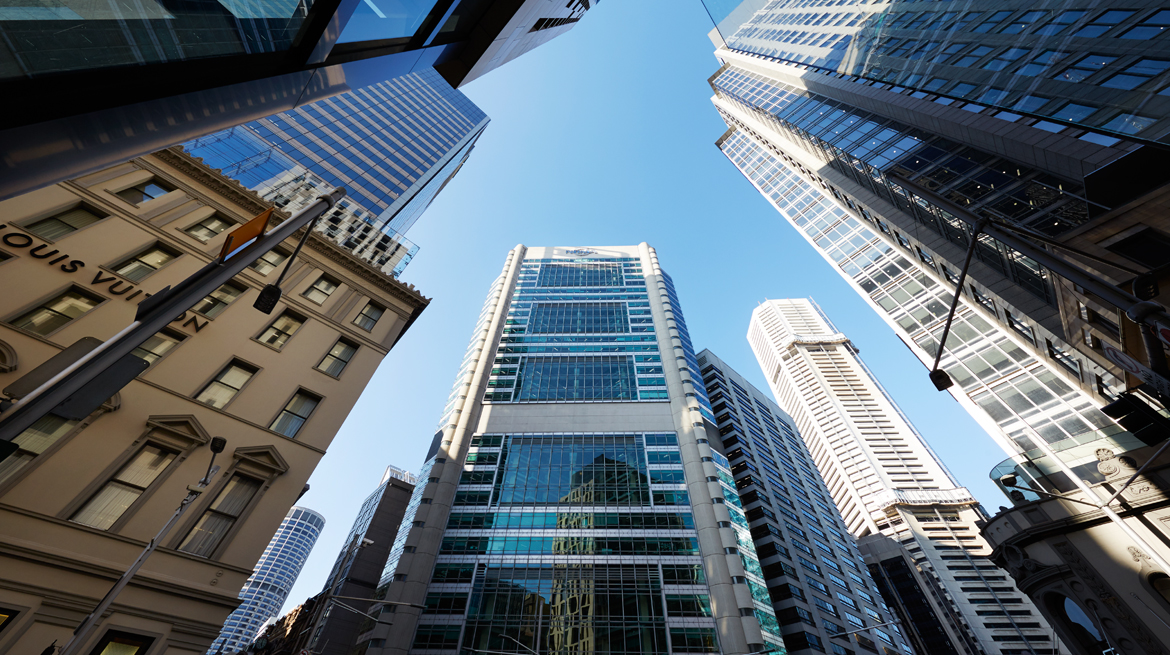 388 George Street Sydney
Brookfield

"It is from an era in architecture that is now being increasingly valued and placed in historical/cultural perspective," FJMT principal Johnathan Redman said.
"Any new work needs to be respectful of the quality and geometry of this significant John Andrews project."
The existing office tower has been an internationally-recognised addition to Sydney skyline through its bold triangular form and unusual use of off-form concrete.
"The curved form of the building responds to the existing building's geometry in a contemporary manner, strongly holding the corner of two of the city's major streets," Redman said.
Related reading: Candalepas-Designed Tower Integrates Historic George Street Former Bank HQ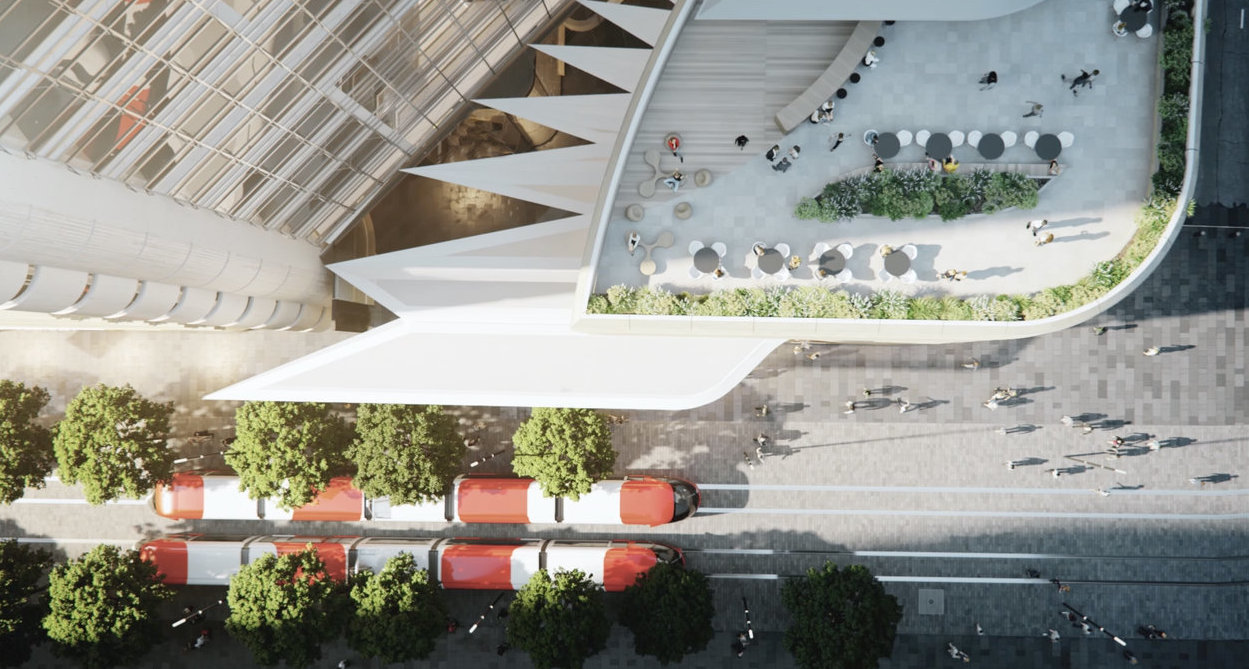 Designs provided by Sydney-based FJMT Architects highlight a new activated rooftop space for potential bars, restaurants or cafes.
fjmt

A new public arcade link will connect the existing tower and the proposed podium, and effectively George and King streets and in turn create a new social precinct in Sydney CBD's northern end.
The arcade will include cafes and restaurants while being connected to the commercial lobby.
The new rooftop terrace will provide a unique amenity and create a lively entertainment destination for employees of 388 George Street, similar in nature to neighbouring CBD rooftop bars Ivy and Level Seven.
Related reading: Sydney's 'The Ivy' Set to Transform into an International Hotel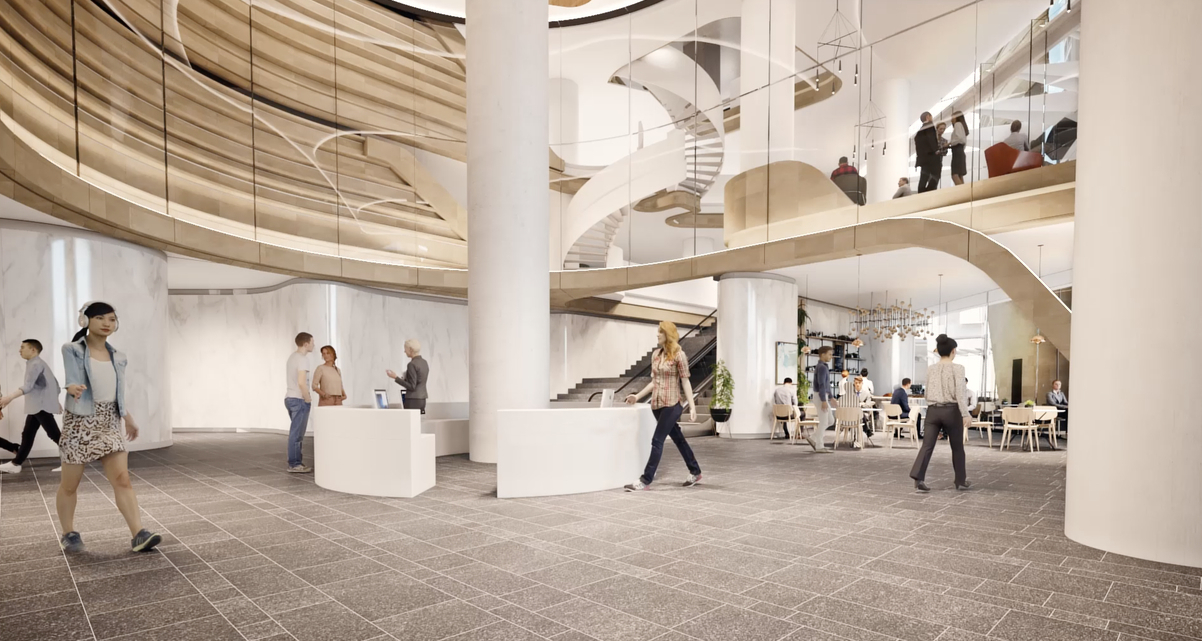 The new commercial and retail annex would serve as an inviting new lobby for tenants and visitors of 388 George Street.
fjmt

The building's existing forecourt is currently home to a small outdoor cafe and an "oversized" entrance to a below-ground Coles supermarket.
"The proposed development of 388 George street is seeking to address a range of existing functionality and urban issues," Redman said.
Brookfield Properties and Investa Property Trust have been considering 388 George's redevelopment for some time, holding an initial dialogue with the City of Sydney as early as 2016.
388 George Street's existing tenants Insurance Australia Group will end their lease this year and the proposed redevelopment will coincide with the building's vacancy.
Article originally posted at: https://www.theurbandeveloper.com/articles/388-george-street-podium-unveiled